Dollar Flight Club Review: How To Save A Ton Of Money On International Flights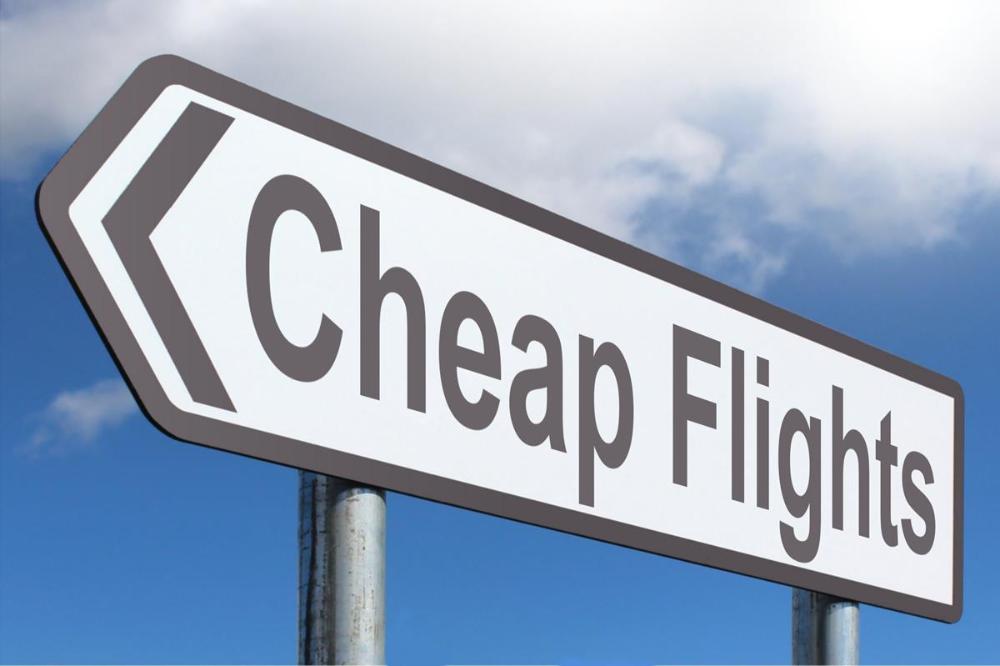 Every year people from all over the world waste thousands of dollars booking expensive, overpriced international flights, having failed to take advantage of any of the amazing deals and ridiculously cheap airfares that were available at the time of booking.
It's far from a trivial issue, since falling victim to even one bad flight deal could cost you months of travel; even a few hundred dollars can go a very long way in many developing countries around the globe.
The reason people overspend on airfares is because the really good deals are hard to track down and they tend to be ephemeral; no sooner have they appeared than they've vanished again in a puff of smoke.
But those incredible deals are out there waiting to be snapped up. We're talking deals like $250 round-trip tickets to New Zealand from North American airports.
What if there was a service that could track down all of the best flight deals for all of your usual departure airports and for all of the destinations that you're interested in travelling to and then notify you immediately whenever a deal manifests, so that you can seize it before it's gone?
Wouldn't a service like that be extremely valuable, considering how much money it could save you annually, especially if you were a frequent flyer?
Luckily for us travellers, such services do exist but the one we're going to take a closer look at today is called Dollar Flight Club.
This service has caught our attention because it's useful to virtually everybody, unlike many other flight deal notification services that focus exclusively on flights departing from North America.
In this article we're going to give our honest review of Dollar Flight Club and you'll find out whether we'd recommend it or not as a tool for finding the best flight deals, so stay tuned.
What Is Dollar Flight Club?

Dollar Flight Club is an email subscription service used by over 500,000 travellers worldwide to save money on airfares.
It has a dedicated flight finding team that hunts down and then publishes the very best flight deals from all over the web for the benefit of you, the traveller.
The driving force behind the company is a passion for helping people to travel more by fetching them the very best flight deals out there.
The founder and CEO of Dollar Flight Club, Jesse Neugarten was trekking in Nepal in 2008 when a 7.8 magnitude earthquake struck, causing him to get stuck just below Everest Base Camp.
Instead of dampening his spirits, this harrowing experience only strengthened his resolve to travel and when he got home from Nepal he became devoted to finding ways to travel more.
After mastering flight hacking and benefiting from it himself, friends and family sought his expertise in helping them to enjoy inexpensive vacations, thus marking the beginnings of Dollar Flight Club.
Once you've set up your Dollar Flight Club account you'll be able to view all of your latest flight deals (tailored to you) in the Dollar Flight Club web app or mobile app at any time.
You'll also be notified by email or text as soon as a superb new deal crops up, so that you won't miss out on anything vital if you don't access your account for a few days.
Premium members generally receive 3-5 deals per week, though this can vary depending on what departure airports you've set in your profile.
Most of the deals are for international roundtrip flights in economy class, so don't expect to receive too many business class or first class flight deals (though they will crop up occasionally). Error fares will also appear from time to time as well.
A deal that has been around for less than 24 hours will be labeled "fresh deal" while a deal that has been around longer than 24 hours will be labeled "past deal". Note that a "past deal" may or may not have expired so it's always worth checking if its still available.
Just to give you an idea of the kinds of deals you can expect to receive as a member of Dollar Flight Club, here are just a few of the deals that are currently in my feed:
Paris (CDG) - > Miami (MIA) - $294 round-trip
London (LGW) - > Tobago (TAB) - $521 round-trip
Frankfurt (FRA) -> Bangkok (BKK) - $447 round-trip
London (STN) -> Oslo (OSL) - $13 round-trip
Paris (CDG) -> Singapore (SIN) - $445 round-trip
When I compared these deals to what I could find using Skyscanner, which is my go-to flight search engine, I found that sometimes Skyscanner would have a slightly better offer but in other instances it could not match the deal that was found by Dollar Flight Club.
Once you spot a deal that you'd like to capitalize on, you can click the orange "view flights" button and you'll be taken to Google Flights or Momondo to complete your booking.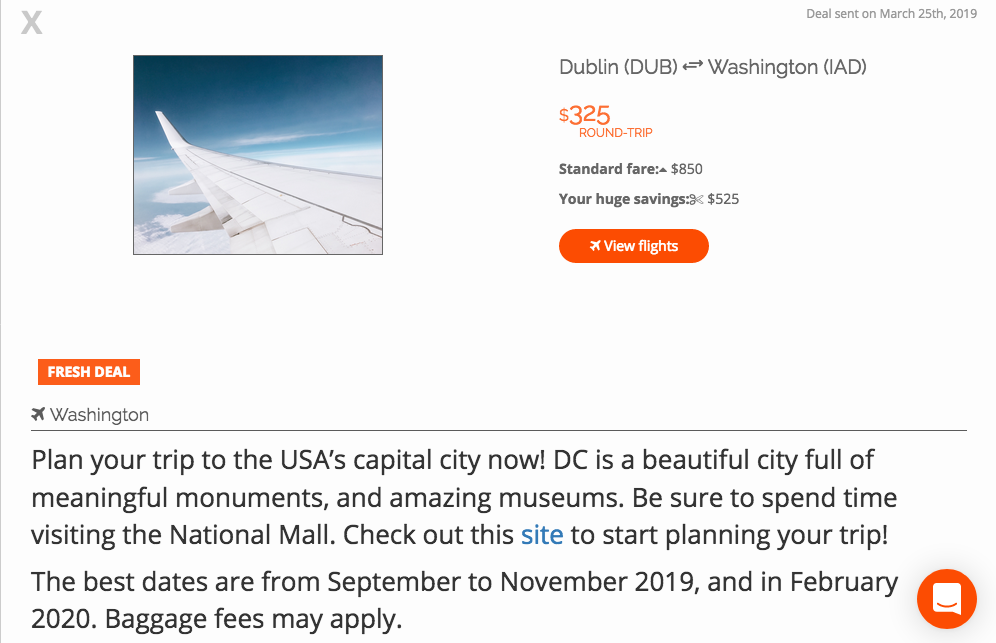 The good thing is that you can customize your profile so that you're only shown deals for the departure airports and destinations that are relevant to your upcoming trip, so there's no risk of being spammed with irrelevant flight deals.
Dollar Flight Club is a great service to use in the run up to an international trip, since you can monitor the deals that appear in your feed and then as soon as you spot something that takes your fancy you can just snap it up.
Benefits of having a Dollar Flight Club Membership
The main benefit of using Dollar Flight Club is that it saves you the time and hassle of searching every nook and cranny of the web for the best flight deals.
Basically, it does all the hard work for you.
Even if you were willing to do all the leg work yourself, you probably wouldn't be able to find all the deals that Dollar Flight Club sniffs out for you.
They have a dedicated flight finding team and more resources at their disposal than you since finding cheap flights is their raison d'etre.
With a Dollar Flight Club Membership, you can just sit back, relax and let the team deliver all of the best deals straight to you so that you don't have to go looking for them.
Dollar Flight Club saves you time and money.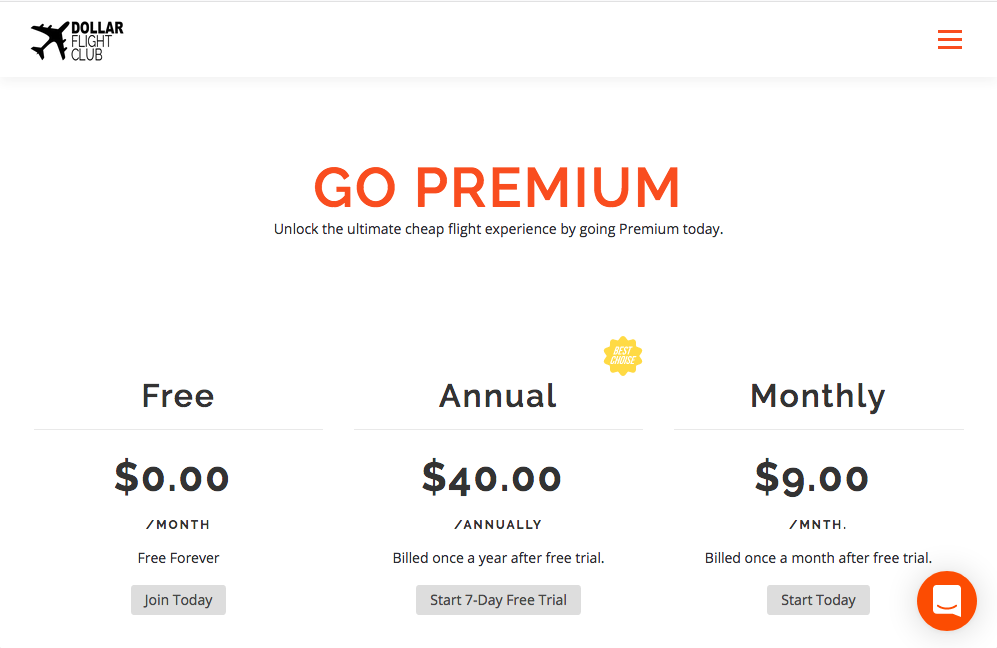 Dollar Flight Club has a very simple pricing structure with just two options – a free membership and a premium membership.
The basic Dollar Flight Club plan is completely free but does come with a number of major limitations like:
The premium plan removes all the limitations that come with the free plan.
Premium members have the following advantages over free plan holders:
They get deals for departure airports all over the world (not just for North American airports)
They receive 100% of the deals (4 times as many flight deals as free members)
They receive alerts before free members so that they don't miss fleeting deals
They can choose specific departure airports (free members can only choose the general region they wish to fly from)
They can receive text alerts to their cell phone
They don't have to deal with ads
They get entered into a yearly draw with a chance to win free flights
The premium plan costs $9 a month if billed monthly but if you pay for an annual membership up front the price drops dramatically to just $40 for the whole year.
If you travel year-round it's a bit of a no-brainer to go for the annual plan in our opinion.
You can also take a 7-day free trial of the premium service if you're unsure about committing to an annual membership right away.
How is the customer support?
If you run into any difficulties or have a question, Dollar Flight Club also have a help centre where you can view FAQs and a number of other articles about your membership.
There's also email support from 9 a.m to 5 a.m EST on weekdays (Monday to Friday). Phone support is currently not available.
So is the premium membership worth the money?
After personally testing out the premium service over the last few weeks, I would have to say that it definitely is well worth the money for just about anyone who flies internationally from time to time, and especially for those who fly frequently.
If they only find you one great deal in the year the service should still pay for itself 10 times over, since the annual membership is just $40 and the average amount travellers save on each international flight by using Dollar Flight Club is $500.
In today's world time is money for most people and the time that a Dollar Flight Club membership could save you is also not to be underestimated.
All travellers know how much of a time drain it can be using search engines like Kayak, Momondo, Google Flights and Skycanner to find a good flight deal in the lead up to a trip.
Usually what happens is that you just end up flitting from one search engine to the next, trying each time in vain to find a decent deal for the destination you're flying to.
A Dollar Flight Club membership should help put an end to all of that.
Here's what other people had to say about Dollar Flight Club: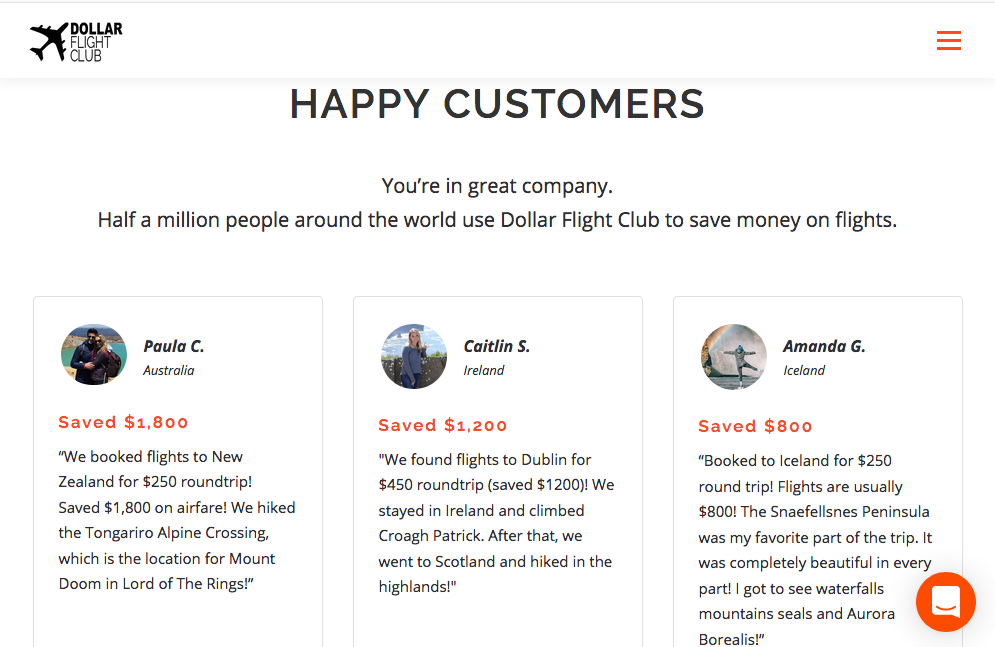 Dollar Flight Club is a very useful tool to have in your toolbox when it's time to find incredibly cheap international flights.
The service will save you a ton of time and a ton of money by delivering the very best flight deals straight to your inbox and cell phone and by alerting you to error fares and other fleeting deals before they vanish.
If you rarely fly internationally the free membership might be the best option for you but if you travel once a year or more the premium membership should pay for itself 10 times over.
If you liked this article please share it with other travellers. And what about you? Have you ever used Dollar Flight Club? What's your favourite flight hacking service? Tell us your thoughts in the comment section below.